Wild Carp Companies Staff
Gilbert Huxley, Club Director - Wild Carp Club of Indiana
Hello, everyone. My name is Gilbert Huxley and I'm a Carp Fisherman. Yes, I said Carp Fisherman. Nowadays, most people have heard about the growing sport of carp fishing. But that was not so true 35 years ago. Let me tell you how and why I have such a passion for fishing for carp.


One Saturday afternoon in 1976, I was throwing a Road Runner for the Wipers that were biting at Eagle Creek Park here in Indianapolis. When I thought was hung-up, it took off with that little Road Runner. At first I thought that it might have been a big bass, until I saw a yellow flash in the water.


My rod and reel set up was for very lightweight fishing, and after 25 full minutes I landed this wonderful carp. Since I had taken so long to land this fish, I had drawn a crowd. Someone saw that it was a carp and said out loud,"Throw it in the bushes; it's not worth anything!" I looked up and said, "Why would I kill something that just gave me so much pleasure?"  From that day on, I have dedicated my life to watching people like that man in the crowd, when he lowered his head and just walked away without another word said.


Soon after finding a fish that had the power of a freight train, I started going to the local Pay Lakes. There was no laughing, smirching or telling me to destroy it by throwing it in the bushes. There, people actually love the carp and respect it for the money that they could get by catching the biggest of the day. I really got into that part of the Pay Lake syndrome.


I fished the Pay Lakes for many years, and after time rules changed and so did the carp fishing. I was actually asked not to get in the money pools because when people saw my name they would not enter. That is when I knew Pay Lakes were not for me any longer. So I went to the wild water and found that wild carp are a whole different animal than a Pay Lake carp. Wild carp have never even seen a hook like their counterpart, the Pay Lake carp.


Although wild carp fishing was more exciting, it did have its drawbacks. For one thing, in those days fishing for carp in the wild was very lonely. No one that I knew fished for carp in the wild.

In 1999, I found Carp Anglers Group (CAG) and Euro carp fishing gear. I found a whole new way to fish and think about the carp. I also found out that I wasn't the only one who fished for carp in the wild.


I joined CAG and was Treasurer for 2 years. During that time, I started a local club called Hoosier Carpers. The first year, I had signed 7 members and we had many social fish-ins. I knew that if we were going to grow as a real club, I had to get the word out to the Pay Lakers.


I asked CAG to sponsor a membership drive with a booth at the Indianapolis Sport, Boat and Travel Show, which they did. The first year, Bill Smith and I ran a booth and talked to people for 10 days of the show. We signed 30 new members that year and Hoosier Carpers was really started.


A few years later I was asked to do a seminar on carp fishing and for doing that the booth was free. I have given seminars every year since and I love it. At first, people would sit down and listen until their feet stopped hurting and then would get up. But nowadays, I draw large crowds and from seeing many making eye contact, I can tell they are listening.


Hoosier Carper is now 150 strong. Hoosier Carpers now have a 6 venue Carp Tournament, with the top ten having a Tournament of Champions at the end of the year. We also have four social fish-ins at the local parks for families, so that everyone has something to do.


I have done many things in the past 35 years since that first day—seminars at colleges, demonstrations for Boy Scouts, and even the DNR of Indiana has awarded me with "The Fish of the Year." I have placed in the Hoosier Carpers Tournament Trail top ten 6 out of the 10 years since we have started.


If you see an old bald guy fishing with some fancy gear, stop by and he will tell you all about Carp fishing in Indiana.  


Contact Gilbert - gilbert@wildcarpcompanies.com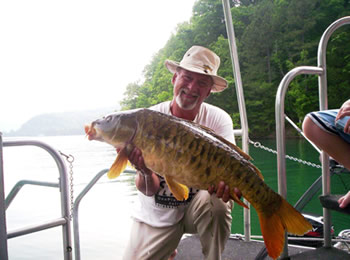 Wild Carp Club of Indiana Director Gilbert Huxley with a 26.8 lb mirror carp caught at Dale Hollow Lake in TN.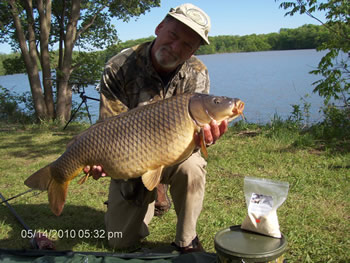 Club Director Gilbert Huxley with a common carp caught in IN.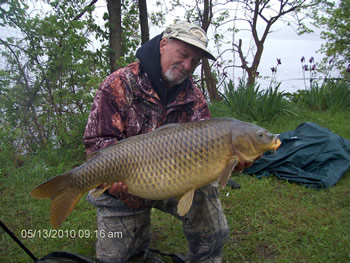 Wild Carp Club of Indiana Director Gilbert Huxley with another fine common carp.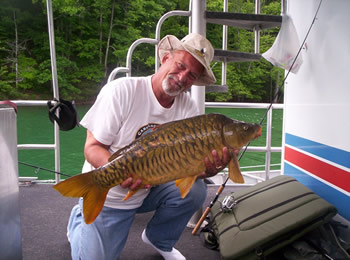 Wild Carp Club of Indiana Director Gilbert Huxley with another nice mirror carp caught at Dale Hollow Lake in TN.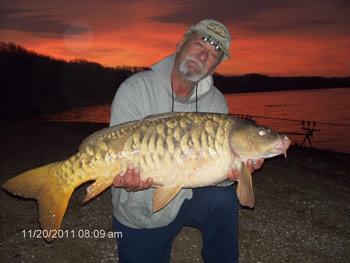 Gilbert Huxley with a beautiful mirror carp.