Celebrity Carp Challenge Tournament
---
Register for Wild Carp Week Tournaments
Wild Carp Companies presents the Celebrity Carp Challenge on Saturday, May 19, 2012 from 11:00 – 2:00 PM at Mercer Park in Baldwinsville, NY. The Celebrity Carp Challenge is brought to you by JGB Enterprises, Inc.

Five local celebrities will be assisted by professional Carp anglers to compete for $10,000 in cash prizes for their represented charities.

Who will catch the biggest carp for charity between CNY Central's Wayne Mahar and Jim Kenyon, Post Standard's David Figura, Baldwinsville Mayor Joe Saraceni and Magician Wade Live?

Admission is free and open to the public. Come on out and watch the celebrities and pros catch huge carp for a good cause!
Prizes
1st Place                    $3,000

2nd Place                   $2,000

3rd Place                    $2,000

4th Place                    $1,500

5th Place                    $1,500
Unfortunately, there were no carp caught during the Celebrity Carp Challenge, as scheduled from 11-2 PM. Shortly after we agreed to split the $10,000 prize money evenly among the five competing celebrities, three carp were caught in rapid succession.

Even though the fish did not count toward an official score, we're happy that most of our celebrities were able to reel one in. They're sure to be back again for better success in 2013!

Here are the prize amounts awarded at the 2012 JGB Celebrity Carp Challenge:
Joe Saraceni, Greater Baldwinsville Community Benefit Fund ($2,000)

Wayne Mahar, Priscilla Mahar Animal Welfare Foundation ($2,000)

Wade Live, Make-A-Wish Foundation of Central NY ($2,000)

David Figura, Alzheimer's Association of Central NY ($2,000)

Jim Kenyon, Food Bank f Central NY ($1,000) and Advanced Strategies Adventures ($1,000)
Acknowledgements
Thank you to JGB Enterprises, Inc of Liverpool, NY, sponsor of this year's Celebrity Carp Challenge. Since 1977, JGB has been a leading supplier of hoses and hose assemblies for commercial and military applications throughout the world. The company's newest innovation, the Perfect Garden Hose, is the world's first truly kink-free water hose for home use and comes in a variety of colors.

Thank you to K-1 Baits for supplying the bait products that will be used by the professionals accompanying each celebrity.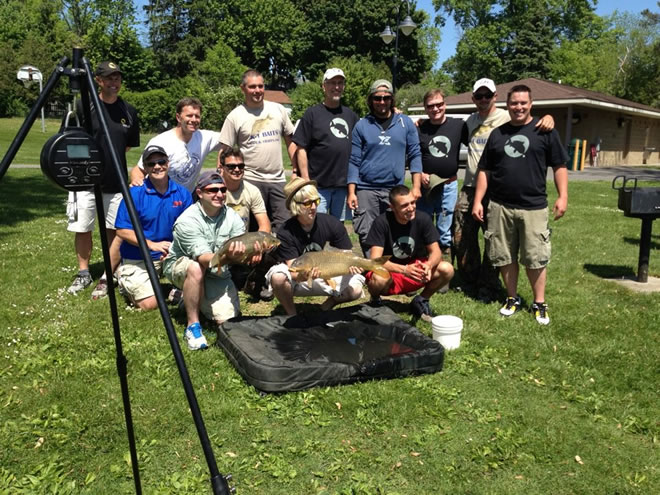 The participants f the 2012 JGB Celebrity Carp Challenge in Baldwinsville, NY.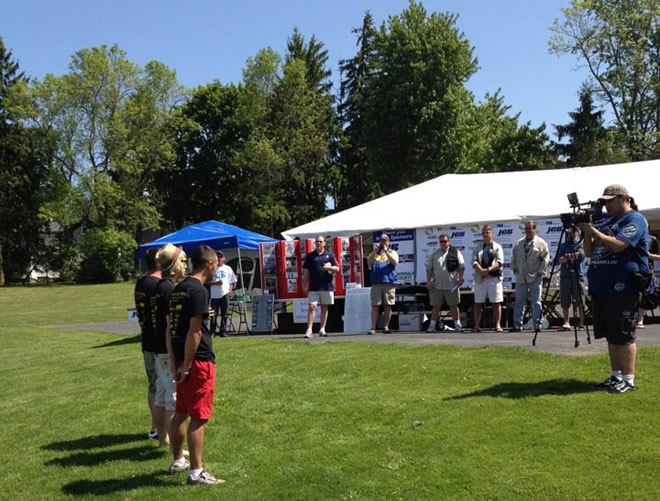 Tournament Director Jason Bernhardt introduces cmpetitrs Wade Live and Ivan Petrov during
the 2012 JGB Celebrity Carp Challenge.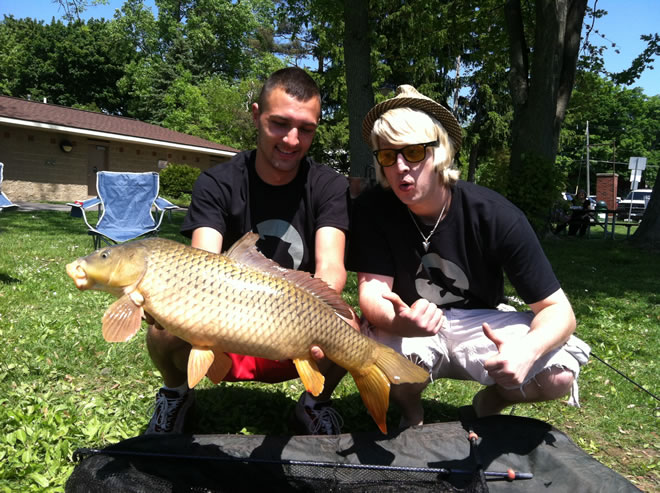 Ivan Petrov (left) and celebrity partner Wade Live (right) celebrate their 12 lb carp caught shortly after the
conclusion of the 2012 JGB Celebrity Carp Challenge in Baldwinsville, NY.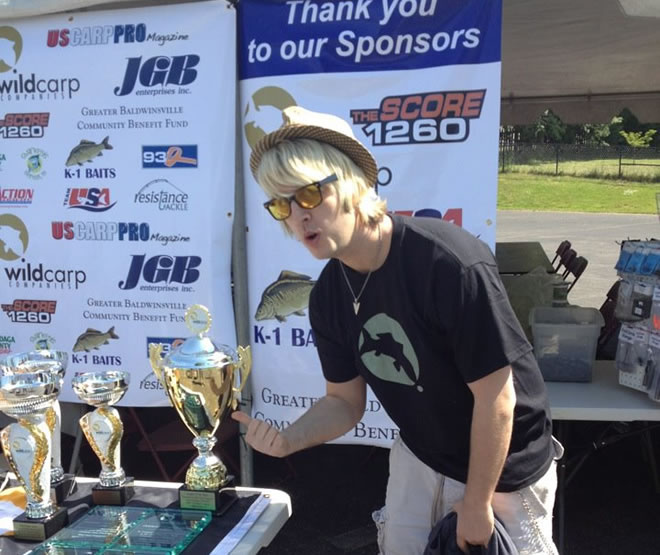 JGB Celebrity Carp Challenge competitor Wade Live poses with the 2012 Wild Carp Week trophies.
Celebrity Competitor

Biography

Supported Charity


Jim Kenyon

Jim Kenyon is the Chief Investigative Reporter on the CNY Central I-Team.

Jim specializes in investigative and environmental reporting. He has won numerous awards including more than 40 local awards from the Syracuse Press Club including the career achievement award and the 1992, 1994, and 1995 state awards for investigative journalism from the New York State Broadcasters Association.

In 1998, Jim won the Primary Care Journalism Award from the Pew Foundation. In 2002, he received recognition from the U.S. Justice Department for his reporting on victims' rights. In 2007 he was nominated for a New York Emmy Award, and was honored with the NAACP Community Service Award.

Jim has been married for 34 years and has a daughter who lives in New York City. His hobbies include motorcycling, hunting, fishing, skiing and competitive shooting.

Food Bank of Central
New York

The Food Bank of Central New York is a not-for-profit organization working to eliminate hunger through nutritious food distribution, education and advocacy in cooperation with the community. 

Advanced Strategies Adventures


Advanced Strategies Adventures, Inc. provides physically challenged, elderly and youth, the opportunity to fish or hunt on FREE guided trips with transportation and necessary gear provided if needed and of no cost to the participants.  


Wayne Mahar

Wayne Mahar is the chief meteorologist on CNY Central's weather team. Wayne delivers the forecast on NBC3, weekdays at 5, 6, and 11 p.m. and occasionally on CW6 and CBS5.


A couple of other rather unique situations that have developed with Wayne over the years are The Weather Outside, and Doppler the Weather Cat. WSTM is one of only a dozen or so TV stations across the country that does the weather outside on the Weather Deck, no matter how cold or snowy it might be in the winter.

On the Weather Deck with Wayne a few times each week is Doppler, a tradition which developed about ten years ago when a stray cat wandered onto the Weather Deck one evening while Wayne was live on the air. In case you didn't realize, that worked out well as Wayne is an animal lover and has had a variety of dogs and cats all his life.

In early 2008, Wayne established the Priscilla Mahar Animal Welfare Foundation, a not-for-profit foundation raising and distributing money to animal welfare organizations around central New York.

The foundation was established on behalf of Wayne's mother who passed away in 2007, and who, like Wayne, loved animals.

Anybody interested in learning more about the Priscilla Mahar Animal Welfare Foundation or wanting to help is asked to please contact Wayne at wmahar@cnycentral.com.

Priscilla Mahar Animal Welfare Foundation (PMAWF)


PMAWF works closely with those in the community to find and help non-profit organizations that work hard to provide animals second chances for a better life. Through events and donations, PMAWF donates the money they raise to those that need our support. PMAWF was established in early 2008 in memory of Priscilla Mahar, who always had a fondness for animals.





Wade Live

Wade Live definitely does not look like your typical magician. Don't let his punk rock hair and blue jeans fool you.

Wade is one of the most sought after mystifiers in the country today. At only 27 years of age, Wade has toured across the world performing his unique blend of magic and illusion.

Wade learned the art of bird manipulation under the tutelage of Dan Birch of Van Nuys, CA—one of the top bird manipulators and cruise ship entertainers in the world. Wade has studied from the prestigious Chavez College of Manual Dexterity and Prestidigitation in La Verne, CA under the instruction of Dale Salwak.

In 2006, Wade was an understudy in one of the largest illusion shows in the world today—Magical Flight, a cutting-edge, lavish magic and illusion show at the Sandcastle Dinner Theater in Saipan, a U.S. Commonwealth not far from Guam that is more commonly referred to as the "Las Vegas of Asia."

Wade Live provides a dynamite show that audiences talk about long after the show is over. Using a combination of music, live animals, comedy and theatrics that will leave you breathless, Wade Live is second to none! Wade is currently performing for luxury cruise lines, casinos, colleges, restaurants, corporate conventions as well as a multitude of other venues.

With a variety of shows ranging from close-up and sleight of hand to large stage productions, Wade Live will astound, mystify and thoroughly entertain your audience.

Make-a-Wish Foundation


Since 1980, the Make-A-Wish Foundation has enriched the lives of children with life-threatening medical conditions through its wish-granting work. The Foundation's mission reflects the life-changing impact that a Make-A-Wish experience has on children, families, referral sources, donors, sponsors and entire communities.





David Figura

David Figura, 57, has been outdoors editor at The Post-Standard for four years. Prior to that, he was the Cayuga County bureau chief and North Syracuse suburbs editor for a total of 26 years at the newspaper.


Before coming to Syracuse, he worked as an editor in various position at The Times-Herald Record in Middletown and as city editor of the Auburn. Other newspapers he's worked at (as a reporter) include the Orange County Register in Santa Ana, Calif. and the Southeast News/Daily Signal in Downey, Calif.


Figura is a graduate of Cornell University (majored in Human Development and Family Studies) and has fished all his life. He caught his first carp as a youngster while fishing with his father along the Susquehanna River in Endwell, where he grew up.


Alzheimer's Association of Central New York

The Alzheimer's Association is the leading, global voluntary health organization in Alzheimer care and support, and the largest private, nonprofit funder of Alzheimer research. Today, the Association reaches millions of people affected by Alzheimer's across the globe through our national office and more than 75 local chapters.





Joe Saraceni

Joe Saraceni is currently in his second term as the mayor of Baldwinsville, NY.

As a lifetime resident and former village trustee, Joe has dedicated his life to making Baldwinsville a better place.

He has also competed with his brother, Tony, in previous Baldwinsville carp tournaments.

Joe is owner of Water Guys in Baldwinsville and is also employed with Centerstate CEO.